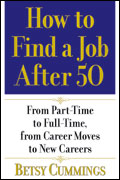 Book Excerpt:
How to Find a Job After 50: From Part-Time to Full-Time, from Career Moves to New Careers
by Betsy Cummings
ISBN: 0446695394
Paperback (trade)
$14.95/U.S.
$19.95/CAN
WARNER BOOKS
Order this book from Amazon.com
INTRODUCTION

THE FIFTY-YEAR-OLD WAKE-UP CALL

In the past year, more than five hundred thousand Americans began their workday gainfully employed and walked out at the end of the day without a job. Fired, laid off, forced out as the victim of a company closure, or otherwise shown the door, millions of workers, plenty of them over the age of fifty, were suddenly forced to reenter the job search market, something many hadn't faced for years, some not for decades.

Others simply walked out on their own, uninspired by what they do, desperate to escape the restrictions of tight management, or anxious to find a new career path-or at least a job that will offer them a different professional role or challenge.

Regardless of how they got there, embarking on a job hunt can be daunting and, for those ill prepared, a quick lesson in humility, frustration, or despair. Never an easy proposition, finding a job after the age of fifty can be disheartening for some and overwhelming, even terrifying for others. Resumes not looked at in years may need to be completely reworked. Interviewing skills have likely all but dried up. Networking-probably the most feared professional task next to public speaking-is something few job seekers are willing to embrace.

What's more, if you haven't traveled the job-hunting circuit in recent years, you may not be aware of the many resources that have sprung up out there in the last year or two alone. Classified advertising certainly still exists. And it shouldn't be knocked- people land jobs every day by scanning the listings in their local newspaper. But where job seekers might once have been able to rely on that historically reliable source alone, now it's just the tip of the job-hunting iceberg-and barely that. Classifieds can be the last spot a company places a listing for a position, especially if the job is in a niche industry where online job boards focused on a particular skill or area of expertise may more effectively target the talent that a company is seeking.

The good news, however, is that older workers do have a vast, rich pool of resources they may not have been aware of, may have taken for granted, or may simply have overlooked. And that pertains to far more than just job postings. Longtime employment in a particular industry provides reams of contacts for job seekers, but many applicants don't immediately consider that option when they start looking for work. Industry groups can help out-of-work job hunters realize what areas of an industry might be easiest to tap for job openings. Association memberships throughout the years can now pay off in contacts and job leads.

The best tactic for mature job seekers? Stop before you panic, and consider all the contacts, resources, and avenues of exploration your career has built to date. Those who do are usually pleasantly surprised with not only the options they have but also the opportunities they never imagined lay ahead.

To be certain, the workplace after fifty is a rich terrain. For all its uncertainty-careers winding down, retirement looming, a younger generation itching to fill spots soon to be vacated by older workers-the opportunity for professional growth has never been more robust for Americans over fifty than it is today. And for good reason. "People now are living on average thirty years longer," says Jeri Sedlar, a retirement expert and co-author of Don't Retire, Rewire!, a book about finding fulfilling work later in life. And they're looking to fill those years with meaningful work or make sure that they have work options so their finances don't dry up.

If thirty or more years of living beyond age fifty is the case for most Americans, older workers suddenly faced with a pink slip would be wise to consider the many decades of living that probably lie ahead of them. But they should also realize that there are numerous opportunities for older job seekers in need of employment later in life. Don't lose hope; older workers are a much more desired talent pool than you may think.

That's good news for workers over fifty who are suddenly unemployed but aren't thinking about how they can make early retirement work. Most Americans in that age range don't have the luxury of hanging up their career after being told to clean out their desk and say good-bye. Expenses usually demand that people put in years more of work. In addition, more Americans are also realizing how crucial their jobs are to their physical and mental well-being.

In interviews conducted for this book with dozens of senior workers-from as young as 50 to as old as 104-all, without fail, stressed that they couldn't feel fulfilled financially, professionally, intellectually, socially, or emotionally without some form of work in their later years.

Where to Go from Here?

That's the question of the hour on the lips of many older workers who have walked off the job or been asked to leave their place of employment in recent years.

For better or worse, you've found yourself at a crossroads. Whether it's a devastating layoff or an intentional walkout from a painful position, you now have the opportunity to rework your career from this point forward.

To change careers, find a new job, or return to work after years away, especially at this stage in life, it pays to discover what really turns you on, what drives you day in and day out, what's going to propel you into another profession, and what could motivate a monumental change in your professional life. That requires some serious personal exploration. Workers in this age group are asking themselves the following:
How do I really want to spend the next twenty to thirty years of my life, now that I can realistically expect to do so?
Where can I continue to showcase my talents and be appreciated and compensated for doing so?
How can I step away from an all-consuming, high pressure career, but still keep a hand in the profession that I find compelling?
What's more important to me now-lifestyle or professional growth?
How much do I need to work to maintain my current quality of life?
What effect will my professional change have on my family?
These are important questions.
Baby boomers' lives aren't without their hurdles. As they enter their fifties, they could just as easily start forging a path to retirement as they could one toward new professional ambitions. But doing the latter might seem like an easier path for those who are young, eager, and untainted by the economic, political, financial, and social frustrations of corporate life. Changing paths now requires tapping energy-whether it's sparked by a newfound interest, panic over lost employment, or the possibility of a new lease on your professional life.
That energy will be widely needed as older workers face other possible hurdles in pursuing new avenues. Plenty of potential employers, for example, are wary of older workers, whom they fear might be more feeble, less mentally alert, less ambitious, or more apt to suffer from health problems than younger colleagues. Experts on aging insist that those perceptions are untrue. The good news is that the eagerness with which companies are retaining a mature workforce is a refreshing sign that employees in their fifties and beyond are an increasingly valued and important part of American business success.
Even for those managers who still don't have faith in the strength of older workers, human resource executives are slowly working to change the perceptions rooted deep within company offices. Consider a recent study from the Society for Human Resource Management (SHRM), which showed that:
72 percent of human resource professionals said older workers provide invaluable experience.
69 percent said they had a stronger work ethic than younger workers.
68 percent said they were more reliable employees.
If ageism still exists in American offices today, it may not be able to for long-and rightly so. Over the next two decades, seventy-six million baby boomers will approach retirement- leaving behind a mammoth gap and talent drain in corporate America. Predictions are that over the next ten years, the fastest growing workforce age group will be made up of those fifty-five and older. At the same time, according to the Bureau of Labor Statistics, the number of jobs available in the market will increase by 15 percent, or twenty-two million jobs, by 2010, but the labor force will only offer an additional seventeen million candidates. This means that if boomers aren't a highly desirable talent pool now, they will be in the near future-in fact, they will comprise a necessary recruitment population for companies looking to fill gaps in the workforce with already trained and skilled workers.
Some in corporate America are taking steps now to help older workers break new ground as they navigate an evolving workplace. Companies such as Procter & Gamble have realized the value of former employees and are bringing them back to tap their skills and expertise on a part-time basis. Companies such as the Aerospace Corporation, a research and development company
Workforce Growth Per Age Group by 2010
Workers 25 and younger -- 2 percent
Workers 25-34 -- 5 percent
Workers 35-44 -- 19 percent
Workers 45-54 -- 8 percent
Workers 55-plus -- 33 percent
*Source: Department of Health and Human Services.
in El Segundo, California, have established phased-retirement programs that allow older workers to gradually step away from their careers over months or years. Others, such as Ford Motor Company, offer part-time programs in which employees can reduce the number of hours they work each week.
Recent surveys indicate that older workers are interested in at least some form of adjustment to their work schedule. For many, that may mean working part time or flex time. A Watson Wyatt survey released in 2004 polled one thousand workers between ages fifty and seventy; two-thirds noted that they wanted to phase out of their current employer. And if companies want to keep workers longer, recruit them back, or make certain they don't jump ship for the competition, which may offer a more enticing work environment, they should begin now to craft strategies that cater to older workers. Certain industries, such as education, health care, and manufacturing, are more receptive to phasing and other flexible work options.
Leveraging Years of Experience
Despite a rash of lost jobs and a seemingly bleak job market in recent years, experts have repeatedly insisted that older workers are gaining power and influence in the workplace-and are securing more promising work opportunities as a result.
But there's an individual push going on as well. Much of the effort to continue working is coming from older workers punished by a market that tanked after the dot-com boom. Others trying to make do in retirement without an income are finding themselves blowing through the nest egg at an alarming rate. And perhaps more than anything, older workers are realizing that if they are living longer, they'll want to be more engaged in their later years and look for ways to find life inspiring. The typical post-career life activities, such as bridge, golf, and gardening, may not cut it.
"It's a necessity to work and create mental stimulation in older people," says Colin Milner, CEO of the International Council on Active Aging. "Work is a great thing dollar-wise, but it offers a variety of different elements that you need to live. It stimulates your mind, keeps you socially connected. It's much more than a purpose."
Indeed, more and more Americans are discovering that work is a key part of moving into the next stage of their lives.
Making a Move
If you think the end of the road is near in your current job or line of work, but aren't sure, ask yourself the following:
If I'm not happy in my current job, what is it that I'd rather be doing?
Is there something I could change about my current work situation that would make it better-maybe working fewer hours or participating in more inspiring projects?
Am I ready to leave the camaraderie of peers and work on my own or do I simply want a new environment with similar work elements and structure?
Are there any more challenging positions or levels of responsibility that I could tap at this company or in my line of work elsewhere?
Have I learned all that I can in this profession, or are there areas still unexplored that could provide new career growth?
Would I be bored not coming to work every day?
Could I change my job or work hours and still maintain my current lifestyle and cost of living?
Is there a company in my field that would provide better growth and money opportunities than my current employer?
Is there much salary growth left for me at my company?
Would it pay to try my same position in another industry?
If none of these answers comes easily, then chances are you need to search deeper within yourself to find what drives you professionally day in and day out. If professional ambition has never been your strong suit, be honest about it. Maybe rethinking your career or work life isn't about finding a new job or career-maybe it's about holding on to the one you already have. Perhaps finding a similar job in your line of work and simply building a retirement portfolio or boosting the one you've already got is more important than discovering a new professional commitment at this stage of your life. Forcing yourself to revamp a professional career later in life will only be an exercise in frustration and disappointment if you're not professionally driven in the first place.
One other thing to keep in mind: Be flexible while investigating new career and work options. Where once almost all Americans imagined themselves not working in their sixties or seventies, a large group of us now see new work opportunities. Likewise, your vision for working later in life or during retirement may change many times before you settle on what it is you really want to do.
"My vision has changed tremendously," says Robert Cannon, fifty-six, who opened his Cannon Advantage business consultancy later in life and watched an array of people throughout his career travel down various paths toward retirement. "It was sad to see so many people hanging on and counting the days until they could retire and get out of wherever it was they were," he continues. "I've seen others quit cold turkey and they don't have anything else to do. And yet I've seen others who have stayed involved. One man is eighty-five and still actively working. He called me to talk about my helping him on another project. This man plays tennis every week, mows his own lawn, and still is looking forward to life where so many others are ready to roll up and die."
Copyright © 2005 by Betsy Cummings
Order this book from Amazon.com