6 Ways NOT to Dress for a Summer Job Interview
by Vicky Oliver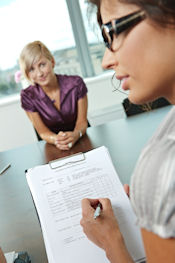 Young people make delightful employees. They're full of energy, fresh ideas, and they're generally positive and enthusiastic. But sometimes they don't have a clear idea about office etiquette and what managers expect in the way of attire and presentation.
To put it bluntly, they walk into summer job interviews wearing "fashion don'ts" that could actually undermine their chances of landing a job.
Don't let this happen to you! Here are a few tips on how NOT to dress for that summer job interview.
Tone down your nails. For this job, your nails don't belong in the Museum of Modern Art. Everywhere these days we see women with four nails on one hand in one shade and one nail in another shade, often adorned with sparkles, fake diamonds, and other "nail jewels." This is TOO creative for most office environments. You don't want your interviewer to be mesmerized more by your fingertips than by what comes out of your mouth.
Cover yourself up. It's tempting during warm weather for ladies to wear tiny tank tops, sheer blouses with lacy underthings, and hemlines that show a lot of leg. For guys, it's muscle tees, unbuttoned shirts, and shorts. Cleavage, arm muscles, chest hair, upper thighs, or heaven forbid, midriffs are great for the tiki bar, but not for a job interview.
Look cool, not hot. If it's 100 degrees outside and you'll be walking to your job interview or riding public transportation, wear a shirt that you can quickly change out of before the meeting. Keep a tissue handy in your purse or pocket to dab those beads of sweat off your nose and brow. Fair or not, showing up sweaty for a job interview makes you look nervous and sloppy.
Save sandals for the beach. Wearing open-toed shoes or sandals gives a bad impression. You look too casual for an office, and could come across as seeming disrespectful toward the corporate culture. Also, showing naked toes just invites people to look at your feet and nails, from the color of your nail polish or lack of it to the trim of your nails. Is that what you want your interviewer thinking about while you're trying to sell yourself?
Nix the tattoos and piercings. If you have tattoos that are easily concealed by a long-sleeve shirt or trousers, cover them up. If you have piercings on your nose, lips, or eyebrows, refrain from bedazzling your face for one hour. Unless you're applying for a job as a nightclub bartender, these trendy adornments aren't going to enhance your professional chances.
It's hip to be square. Don't try to make a summertime fashion statement with a Hawaiian shirt, indoor sunglasses, a backwards baseball cap, or bangles up to your elbows. It's one thing to look sharp and maybe feature a single item of clothing or accessory that makes you stand out, such as an expensive briefcase or a unique color. It's another to look like you're headed for the Jersey Shore.
Vicky Oliver has written five bestselling career development books in a row, including 301 Smart Answers to Tough Business Etiquette Questions and the newly published The Millionaire's Handbook: How to Look and Act like a Millionaire, Even if You're Not
. She lives in Manhattan, where she helps people turn around their careers and their lives.